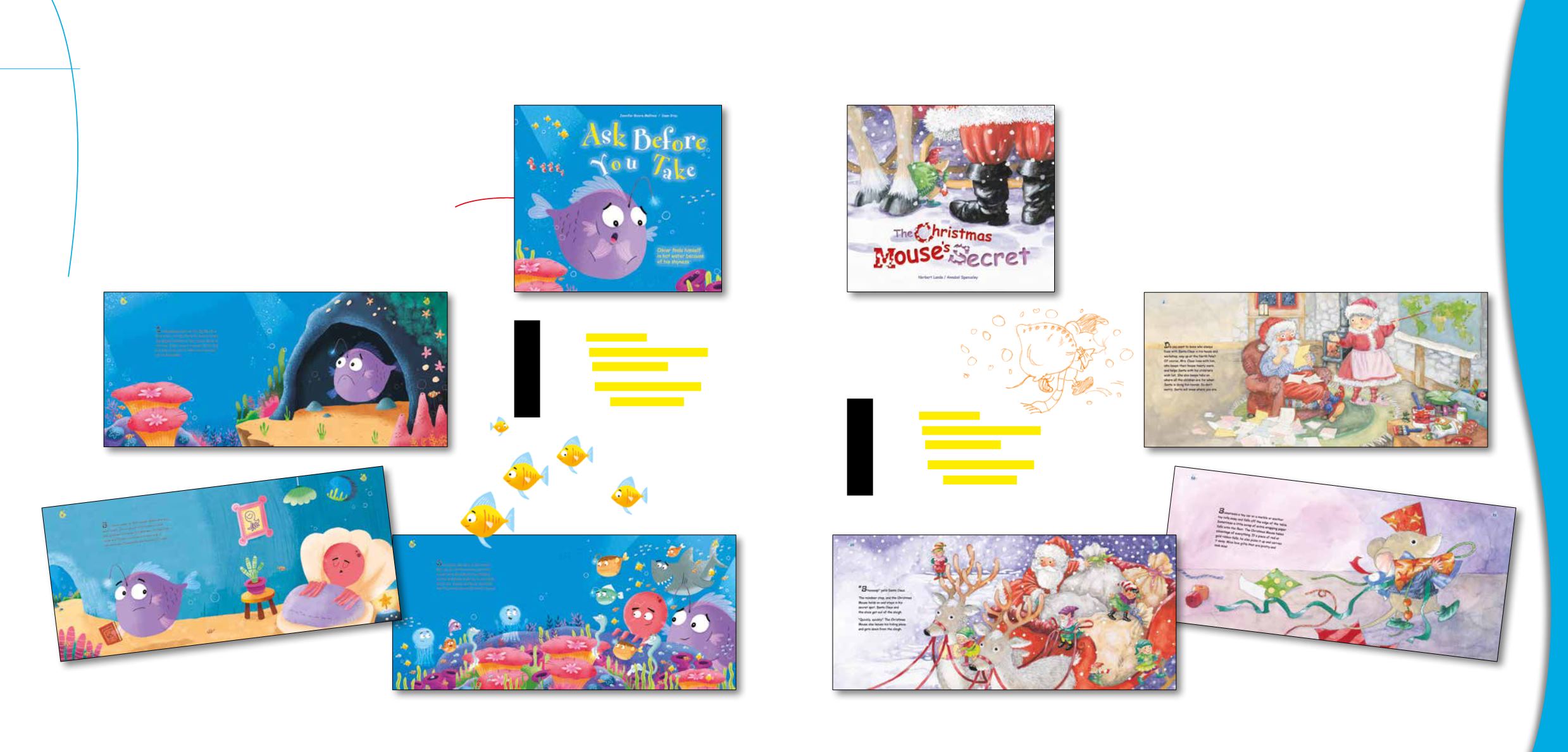 4
Albums
Specifications
Titles:
Open series
Pages:
36 full-color throughout
Format:
255 x 230 mm
Binding:
Hardback / paperback
Age group:
6 years and up
Ask before you take
d
In the deepest part of the Big Blue Sea lives Oscar,
a Big Blow Fish. Despite of his size, Oscar is very shy.
In fact, he only comes out of his cave at night, when
the others are fast asleep. That is, until Oscar found
out that Stanley, the meanest Octopus in the Sea,
had something that Oscar really wanted to borrow but
was too scared to ask. He was faced with a dilemma...
Unfortunately, Oscar finds himself in "hot water"
when darkness takes over the sea. Will Oscar be able
to straighten things out again and save the sea?
New
Albums
5
The Christmas Mouse's secret
d
Santa Claus knows all the children, but the fact
that the Christmas Mouse was living in his house
was a secret nobody knew...
While Santa Claus wraps his gifts, the mouse watches
attentively and picks up everything that falls onto the
ground: toy cars, marbles, colored ribbons… Later,
he gets the gifts ready for little mice around the world
and, on December 24th, he travels with Santa Claus—
in his special hiding place—to hand out all his gifts.
Specifications
Titles:
Open series
Pages:
36 full-color throughout
Format:
255 x 230 mm
Binding:
Hardback / paperback
Age group:
3 years and up